Claro Walnut 000 Build blog:

July 31th 2015
Well by hook or by crook I got the guitar built and I am ready to make and install my hawk and moon logo in the head stock and start finish sanding.
Sanding sides before cutting the rebates
I bent 4 bindings at a time and fit them dry to the guitar


It went well on all sides as I took a bit of time making sure they fit before gluing them on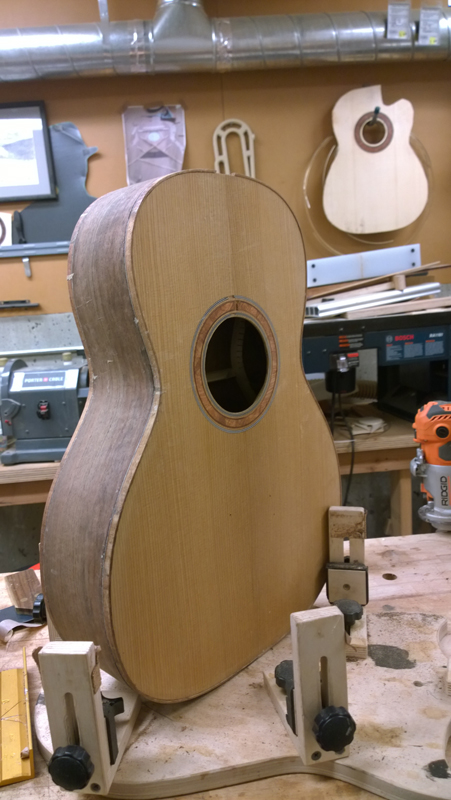 I used a pre-made neck on this guitar so I just had to glue on a veneer and do a bit of finish shaping.


I ended up very happy with the neck angle. I used a 28' radius dish and glued on a radiused transvers brace that had the center 5 inches flattened. I have a matching gluing call for that brace.


I managed not to forget the truss rod. The pre-made slot was a tad deep so I filled the gap with a shim to prevent raddling
I glued on the fret board and installed a heel cap. I put matching BWB fiber under the heal cap to flow with side purfling.


Ready for prep sanding


August 1th 2015
I have the body prepped. On my last guitar well into a FP of the top I noticed a glue finger print flashing when I moved a light. Absolutely invisible while I was finishing. I use a glue that fluoresces in a black light and I have a black light. So this time before applying any finish I checked my surfaces with the black light and cleaned off any glue spots that I found.
I finished the prep fill and started to pore fill. Here is the guitar where the back and sides have a coat of zpoxy and the top is sealed with shellac,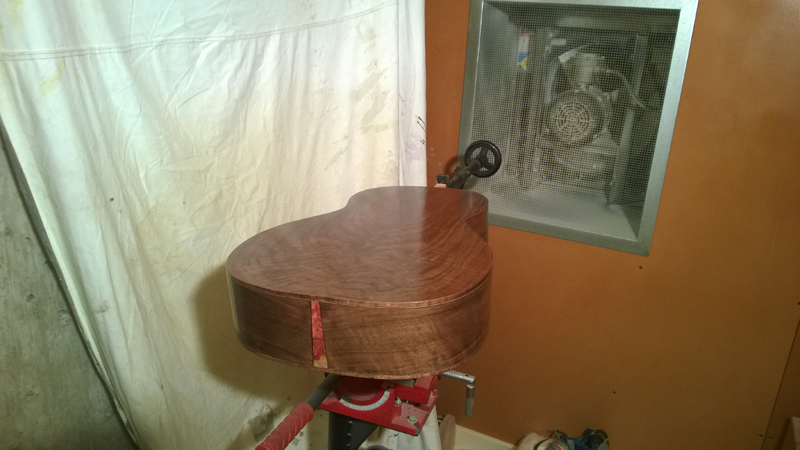 While waiting for the zpoxy to cure, I cut out my hawk in moon logo. I posted this before, but I am getting faster. Also now the parts fit as soon as I am done cutting. Over time keeping the blade perpendicular to the pearl becomes second nature and I just focus on following the line. Here is a pictorial of the process.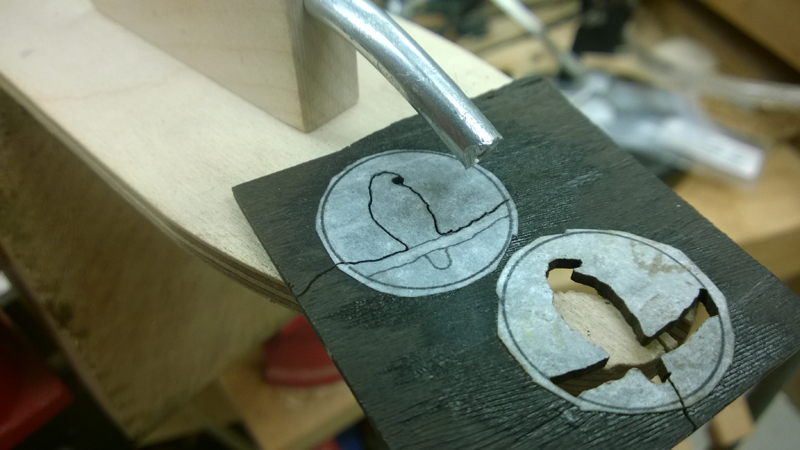 August 11th 2015
I finished my prep work and have sprayed my first coat of EM6000 a water based lacquer. My prep was z-poxy fill followed by a wash coat of blond shellac. In between the z-poxy and the shellac I spent a bit of time looking for gaps. I filled binding gaps with shellac and saw dust and I filled some rosette gaps with thick CA glue. All of these gaps were very thin, but I have learned that they get magnified with finish. I am padding on Royal Lac for the neck. Here are some pictures of the guitar completely prepped for the lacquer spray.


Here is the body with the first coat of lacquer (still wet)


August 14th 2015
I finished spraying at let it rest for 5 days as per manufacture instruction. I placed the bridge and used a scalpel to mark out the bridge location and the fret board extension. I did this before any level sanding as I have learned that I end up marring the finish during this process. Before clearing the unwanted finish I level sanded the finish to P800 with a random orbital sander and buffed it out. I waited to clear the finish as I did not want any polishing compound on the wood where I am going to glue down the bridge.
I took a few teaser photos, cleared out the finish in the bridge and fret board area and am currently using my vacuum clamp to glue down the bridge.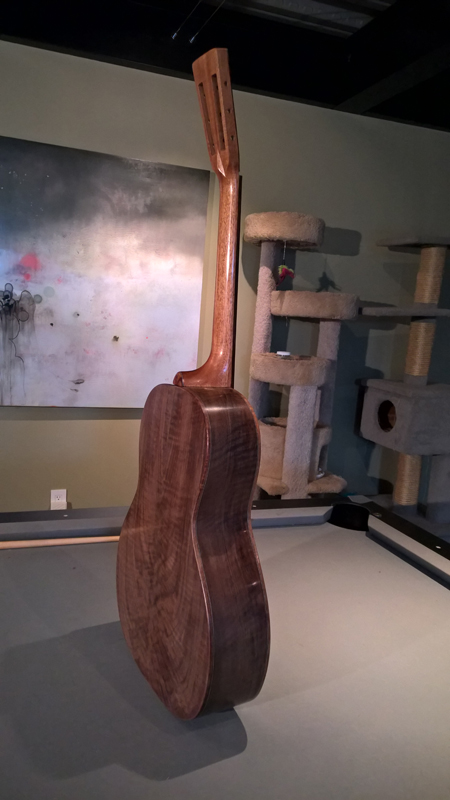 August 17th 2015
It is all strung up. I have done no set up work yet as I like to wait a bit. But I made the nut and saddle so that they are close to final. The instrument sounds OK for the first 10 minutes strung up.


Start