Claro Walnut 000 Build blog:

July 21th 2015
A bit more traditional, I am building a commissioned guitar that is going to be a surprise gift. For this guitar I decided to be a bit more traditional than I have been in my last few guitars. I have built a few of these 00 guitars, but this will be the first that I will use non-scalloped braces. I have sort of been working on while french polishing the 8 string classical (that is why you see shellac and olive oil in the photos). Here are a few highlite photos from along the way.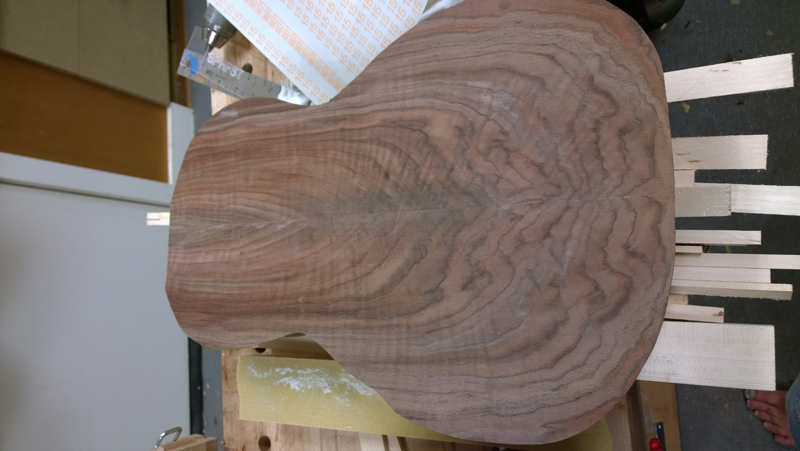 July 22th 2015
I used a plane and a radiused sanding jig to put a 15' radius on the back braces. Given that the braces were preshaped a bit, I used my vacuum box to clamp the back braces in place.
I sliced off a bit of amboyna to use as a tail wedge and installed it with some black fiber strips.


I need to inlet for the braces top and bottom but I am close to being able to assemble the guitar.


July 26th 2015
I managed to close the box this afternoon.
I used a scalpel to mark out and a small die grinder to route for the braces in the linings.


I used a bunch of clamps and glued on the back (using the mold to keep the rims square)


While waiting on the back glue up I did a bit of prep on the top, clean up sabding and gluing down a linen strip on the x-brace


The back glue up went well so I used even more clamps to glue on the top. The back really set the rims so I put away the mold.


I findly decided on Australian Black wood with a BWB purfling for my bindings so I got that going as well.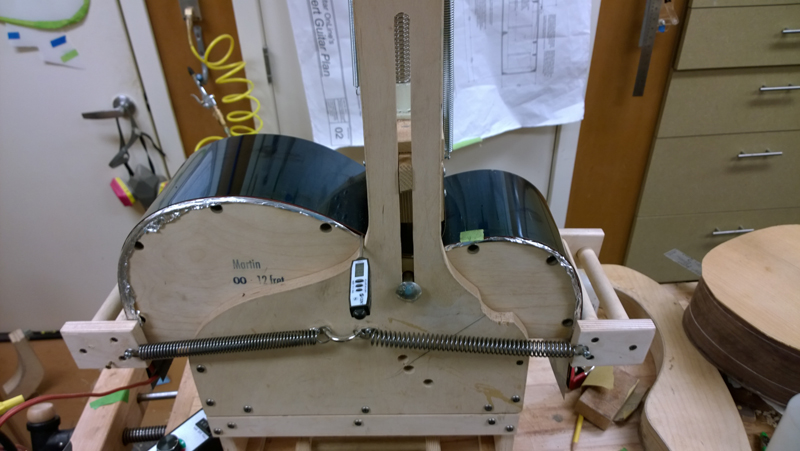 Next