Katie's Cocobolo\spruce 00 12 fret steel string:

Nov 1st 2015
I recently started a new cocobolo\spruce steel string that a niece asked me to build. I completed the rims and need to brace the back and the top. I was thinking of using a more traditional scalloped x brace with one tone bar but my falcate brace molds and templates keep calling out to me.
I founds some spalted maple in my stash that I used for the rosette and the end wedge. I plan to use amboyna burl for the head stock and curly maple for the bindings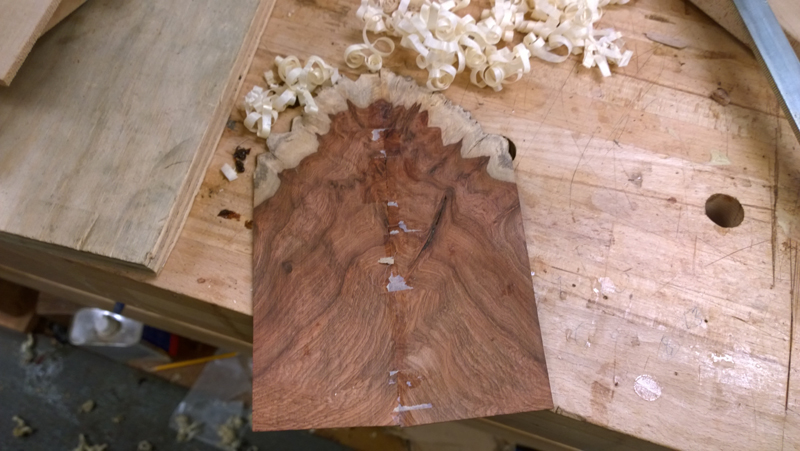 [


Nov 7th 2015
I probably will not do too many more with Cocobolo as I am getting allergic to it. I get high on my arms and around my eyes. I use a full face mask with powered filtered air now when I sand it. That has helped. Cordaid 10 for my arms.
I braced the top and the back today. Relatively straight forward X bracing. Although this is a 00 I braced it more like I 1906 0 Martin that I have plans for using only one tone bar and two finger braces. One of my day to day 00 has this bracing patterns and I grown to really like it. I have finished 2 others with 2 tones bars and 4 finger braces and was not as happy with the sound. The back is stiffly braced, designed to be not an active back and pitched such that it should not couple with the top. Cocobolo, especially this back, is really dense and it would be hard to get a responsive active back.
I still have a bit of clean up on the top. I will route the pockets into the rim and be ready to close the box.


Nov 19th 2015
I closed the box and have the bindings on. This is one of a number of guitars I have built for family members. I have 24 nieces and nephews so I keep them relatively simple. So I have curly maple bindings on this guitars with no purflings. A thin black purfling would have been good for the top but too late now.
I think the only note of interest, and I hesitate to bring it up as it is so obvious but I have missed it on all my other guitars: I use a scarf joint to join the bindings, this time I put the binding down where the scarf joint made a pocket for the second binding to fit in. I had always done it so the second binding went on top of the first. But that is so prone to slipping. Here is a picture that will show it better.


With the first glued on I can push the second binding into the scarf joint with some pressure before taping making a really tight joint. I felt like an idiot when another luthier showed me this.
Here are some pictures taken through the process.
Just for fun I used the gobar deck to glue on the top, also I glued on the top first a reverse of my normal order. I wanted to see what a top spectrum looked like before the back was glued on


I just used clamps for the back.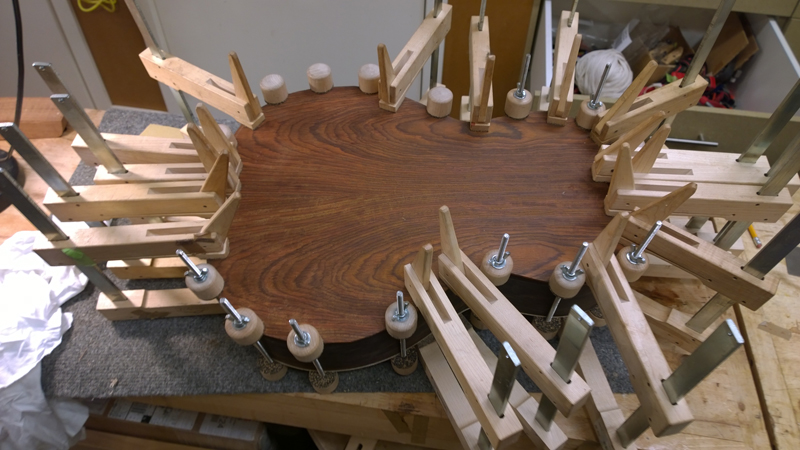 I have an LMI neck for this guitar. I want to see if I can get it out by christmas


I leveled the sides by marking them with a pencil and using my drill handheld drum sander. One really needs to be careful with this it removes wood quickly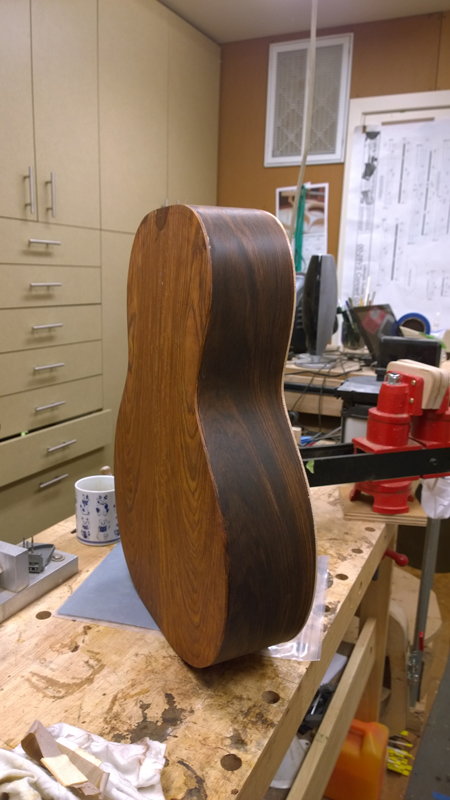 I bent some bindings in my bending jig and set my router and routed the channels


I for the most part just taped in the bindings. I did make sure that the waist was tight


I am ready for the neck. But I forgot to order the inlays and I want to inlay the fret board off the neck. Oh well I will still start getting the neck ready tomorrow.


Next